>> Go To the Official Keep2Share Website


Keep2Share is a file hosting service provider that enables users to quickly download files wherever and whenever. Keep2Share downloader ensures a fast speed download especially for users that are registered under Keep2Share Premium accounts and Keep2Share Premium Pro accounts. Even Keep2Share's free account will let users try how well their platform works. With keep2share's safest and reliable services, users will have a hassle-free and stress-free solutions for file sharing. All data and files are secured, and users can customize if they want to keep their files private or public. Keep2Share was founded in 2012 and as of today, the file-hosting platform is one of the fastest-growing service providers in their industry.
Questions? Consult the official Keep2Share Support
There are three types of accounts in which keep2share can be used and let us show you the features you can avail for each account:
| | | |
| --- | --- | --- |
| Keep2Share FREE | Keep2Share PREMIUM | Keep2Share Premium PRO |
| $0 Monthly | $9.50 Monthly | $11.75 Monthly |
| 50 KB/s Download Speed | High-speed Download | Maximum Speed Download |
| 1 GB Download Limit | 20 GB Download Limit Daily | 50 GB Download Limit Daily |
| Separate Downloads | Simultaneous Downloads | Simultaneous Downloads |
|   | Download Accelerator Allowed | Download Accelerator Allowed |
|   | Resume Downloads Available | Resume Downloads Available |
|   |   | Antivirus File Checker |
|   |   | Favorite Lists Available |
|   |   | Limitless Online Video Preview |
|   |   | Download files Anonymously |
|   |   | 10GB Max size for Download |
|   |   | Bigger Storage |
Keep2Share is best to use by everyone, except for those who wanted to use the file-sharing platform for a wrongful act, especially with various files that are harmful to minors. Keep2Share is very strict against such abuses and never tolerate one. If you are a student, an employee, a business owner or whatever profession you have where you need something that will securely store your important files, and safely download files, keep2share premium is the best choice available in the market.
People nowadays wanted an easy and fast file sharing platform, and that is why keep2share premium is always available to everyone. If you just wanted personal storage that can be easily accessed everywhere you go, keep2share is the right file hosting for you. If ever you need more storage, you can easily upgrade your account to keep2share premium or keep2share premium pro. If you have a business where files should be accessible by your vast employees, keep2share premium account is the best fit for your online storage needs. You will get the privilege of a secured transaction for both sides, downloading or uploading, without thinking much of having a corrupted and infected file. The best thing is that there are no Ads and unwanted clicks that redirect you to an unknown page.
Keep2Share Downloader is great for your personal storage needs.Keep2Share Premium Account is a top-notch choice for any file sharing specification.
Since Keep2Share wanted to offer a more flexible and customized experience for every customer, they are allowing the customer to choose their own third-party applications to boost more of their download speed that they desire. All apps outside of Keep2share can be integrated and activated in Keep2Share Premium accounts.
Aside from the booster downloader that should be installed by the user itself, there is nothing to be installed as the Keep2Share works by just activating your premium account.
Yes, keep2share provides the best sharing platform there is in the market. Very hassle-free for both downloader and uploader. No need to be so techy for complex installation of programs and all, what you only need is a browser and everything goes. With the platforms' excellent and accurate account synchronization, what a downloader only needs is the right link. Every time a folder is updated, it can be accessible by any downloader as long as it is for the public.
Main Criteria in choosing the perfect File Hosting provider
As we all know, there is a vast file hosting provider to choose from in the online market. But what separates Keep2Share Premium from the other competitors are its features that ensure they are a customer-focused file hosting company, making everything possible for your convenience.
✔️Safe and Secure File Processing
Keep2Share is a leading file hosting provider because of the security it provides to its users. Especially when you purchase a Keep2Share Premium Pro account, automatically every file to be downloaded is extensively checked for potential viruses. Keep2Share Downloader will quickly notify the user of possible the complete safety of their devices. Safe and sound, right?
✔️Fast Speed Downloads
Keep2Share Premium offers one of the highest download speed available from a file hoster. Premium users are able to download bigger files instantly without any hassle and interruption. Keep2Share Downloader allows third-party download accelerators to boost more of your provided download speed. On the other side, Keep2Share Premium accounts have a download manager that enables premium users to pause and resume a downloading file. Awesome, right?
✔️User-friendly and Stable Platform
The platform or website itself is sure to easily navigate Keep2Share users from where they want to go and what they want to do. With understandable, simple and compact dashboards to button functions, even a first time user does not need to use a manual guide to do what they want. Easy, right?
✔️Varieties of Premium Features
Keep2Share Premium Accounts features a wide range of helpful features that will make every upload and download hassle-free for you. From parallel downloading, virus file checker, resumable downloads, unlimited playing of videos online, to bigger file storage and more, everything can be done. Lucky, right?
✔️Responsive Customer Support 
Keep2Share site ensures that all issues and problems are taken care of quickly as possible. They do not want to leave their users hanging, that is why they make sure to provide correct and helpful answers as well, offering excellent and outstanding solutions for the users.
>> Go To the Official Keep2Share Website
Maxim H.
Keep2Share Premium Account stands out
Keep2Share is among those File Hosting websites that I prefer. I am spending money on some superior download service for 12 months plus I have been very happy with the assistance. Notably for your service group, because I receive replies in only a couple hours. I felt perfectly researched and can buy your product again. I am quite delighted with the eye.
Trisha D.
Keep2share, finest File Sharing Portal
I have already been using Keep2share over repeatedly for ages. Keep2Share is the ideal File Sharing Portal for me personally with all comprehensive articles in my own opinion. Especially highly commendable could be your service when there are not any problems. The solution is normally a single evening after. Class. In a unique situation, hackers stole your accounts. The assistance of Keep2share has been superb. Thank you, Keep2share.
C. Ying.
Keep2share Downloader is fast
I have attempted many File Hosts within the time that I go straight back again to or-on and ancient days of Megaupload. However, the many solid and reliable nowadays are Keep2share, they have a massive level of articles and excellently good with all customer services. Unlike many others, their downloads have become quick using Premium subscription I used to make use of Rapidgator but seen them slower in case you'd like a dependable document hoster and set to download excellent material that you can not move beyond Keep2share.
Raye S.
A great choice for a small value of a monthly payment!
Keep2share is actually a fantastic option for downloading and saving files. Primarily, there exists a whole lot of sources on several internet sites encouraging Keep2share. Second, you can't just download with the way of a Keep2share Account but you also can save the preview. Above all, the rate of downloading is pleasing.
Kevin R.
No problem occurred to me in Keep2Share for years of usage
That I have not ever had a concern with keep2share. I have not been prohibited, never experienced some problems as much as speed goes in my 80mb lineup if inch down load does not max it afterward download two at precisely the same time and there's the line rate pumped out. I personally utilize JDownloader using keep2share downloader quite thankfully, I really don't make use of a VPN. No problems later, maybe 8 decades thus far.
V. Smith
Most Reliable Provider and Outstanding Support
I've really been a longtime premium account registered and also the agency happens to be reliable with good rates. Recently did begin to have problems together with download connections reporting my accounts isn't superior and that the rates are limited consequently. After calling and dealing with the service team via email, these could eliminate the issue fast as well as provide some incentive extra days. My account continues to be working fine right now. Recommended service from Keep2share team.
P. Xing
User for ages
I have already been using Keep2Share for my pride for ages. Lately, I pointed out that the download rate was inadequate and that I asked support about it. Speed has been coming back into ordinary immediately. The only real tip I have for service is to describe to the customer the reason you are interested in getting the consumer to do something. That is all. 
Register for FREE
Haven't you decided yet? You can try Keep2Share's free account where you can experience one of the best free file hosting accounts available. But as it is a free account, you won't be able to fully experience what Keep2Share can truly offer. With a free account, you can still download files for free with a limit of 1 Gigabyte. It may not be faster than the premium account but you can still experience faster download speed than of another file hosting. All in all, with a free account, you can check out some of the features of Keep2Share premium, just always remember that most of the best things in the world is not for free and great people uses awesome platforms for convenience and more productivity.
Keep2Share offers a wide selection of different scenarios on when to pay your Keep2Share Premium Account:
| | | |
| --- | --- | --- |
| Packages | Keep2Share PREMIUM | Keep2Share Premium PRO |
| Trial (3 days) | $6.95 | $8.95  |
| Monthly (30 days) | $16.95/month | $21.95/month |
| Quarterly (90 days) | $13.98/month | $17.32/month |
| Yearly (365 days) | $9.50/month | $ 11.75/month |
Pay instantly and securely
Keep2Share Premium or Premium Pro accounts do not only provide flexible packages but they are able to make sure you can pay them using payment methods that suit you and that makes you feel safer. It may be a small amount for others but the Keep2Share team always value any penny because they know you worked hard for it. To send their gratefulness, they made sure to provide hassle-free various methods to keep your Keep2Share Premium Account. From online, digital and local payment methods, more time was saved.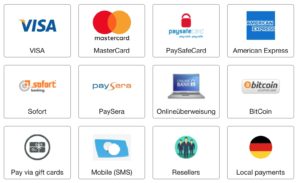 The Verdict
Keep2Share Premium has quickly risen from the others and it only means that more and more people are switching to their provided services. The tools are completely easy to understand that even an old woman can navigate quickly and very efficiently on the website. Security is a big factor when choosing a great provider that is why Keep2Share Premium Pro Account has a virus-checking tool to make sure you never download unnecessary and infected files. These features of the file-hosting providers enable them to become one of the sought after file-sharing platforms in the market. Their second-to-none customer services allow them to completely offer customers the finest experience. From it's free account to premium, it will never fail.
You will need Keep2share premium account for everything about file security. Whether you are a student that needs to have personal storage online, a small business owner where you need to organize your files, and any kind of profession you have, keep2share is the best. From its expert team of very responsive in customer concern, you will be assured that in times of trouble, they will help you. What you only need to do is choose the right file hosting provider and everything else will follow. Choose Keep2Share Premium. That's what an outstanding provider consists of, from its excellence that stands out from the others.
>> Go To the Official Keep2Share Website